Meet Emily
About Emily Ballance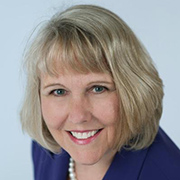 Nationally recognized and highly sought-after keynote speaker, Emily Ballance brings her refreshing wit and understanding of people to every presentation. Her unique ability to find humor in ordinary events and relate to all types of people without pretense is what sets her apart from other speakers.
A frequent recipient of standing ovations, Emily draws from her career experiences in healthcare, the corporate world, her private counseling practice and her life to offer a humorous perspective.
Whether she is speaking on the challenges of work, generational differences, stress management, customer service, or managing change, her presentations come alive with hilarious stories and affirming humor.  Attendees leave with better skills to reduce stress, increase productivity, and improve coworker and customer relationships.
Key Facts
Certified Speaking Professional (CSP) – CSP is the highest earned designation awarded by the National Speakers Association and recognized by the Global Speakers Federation (GSF). Emily is among the 5% of women who belong to the Global Speakers Federation (a 5000-plus member international organization) and have earned their CSP certification.  To earn the CSP designation, a speaker must document 250 paid speaking engagements, receive exceptionally high ratings from meeting planners and meet high professional standards in the following four areas:

Platform skills
Business management
Education
Association membership
Member of the Global Speakers Federation, National Speakers Association, Association for Applied and Therapeutic Humor, American Association of University Women, North Carolina Counseling Association and Raleigh Professional Women's Forum
Former lecturer, counselor and group facilitator at the Duke University Dietary Clinic (now Duke Diet and Fitness Center), Durham, NC
Former wellness consultant and trainer for "Staywell," Control Data Corporation's highly successful and innovative Employee Assistance Program in Los Angeles, CA
Graduate of the University of North Carolina at Chapel Hill with a Bachelor of Arts degree in Journalism and Master of Education degree in Counseling
Published author of articles on humor and health
As an experienced speaker, Emily has dealt with the unexpected many times and always looks for the humor.  She wrote this article for Speaker, the monthly magazine of the National Speakers Association.  It was selected it to be published in a special edition for prospective members.
Call Center Blues?  Bring in the Humor!
Emily wrote this article for Customer Relationships Management, the journal of the Society of Consumer Affairs Professionals (SOCAP) after speaking at their international conference.  She offers practical strategies for using positive humor to deal with daily stress within call centers.
North Carolina Licensed Professional Counselor (LPC) – Prior to becoming a full time speaker, Emily maintained a private counseling practice providing psychotherapy for individuals and groups.  To become an LPC, one must earn a master's degree in counseling or a related field, complete 3000 hours of supervision, pass the National Counselor Exam, and adhere to a defined code of ethics.  Emily keeps her LPC license current.
Memberships and Affiliations